Good morning, afternoon or evening my Crafties! I'm thrilled to share with you my very first tutorial! This isn't just any tutorial...it's a
Dollar Store Craft
! Now that I have your attention enjoy my rambling step by step guide to a cute photo frame.
Materials:
*All of my dollar store items were purchased at my local Dollar Tree
$1 5x7 black photo frame
$1 bag of glass pebbles
$1 stem of fabric flowers
$1 pack of sponge brushes
-I already had: Mod Podge, scrapbook paper, scisorrs and hot glue gun
Step 1:
With the paper of your choice (preferably scrapbook paper or heavy card stock; as regular printing paper doesn't hold up as well) cut strips to cover the frame. I didn't really take my time on cutting. My paper went over the edges, which worked out in it's own way. Crafting is about finding what works for you.
TIP: The glass in this frame wasn't removable, so I cut down the paper it came with to sit on top of the glass. No mess :)
Step 2:
With your glass covered (if you can't remove it) grab your Mod Podge and evenly cover the back of the paper. Gently lay over the frame making sure you have the paper straight and right side up! If your paper is too large, simply push it down along the side of the frame (it can be our secret).
Step 3:
After you have covered your frame, allow the paper to set for at least 15 minutes. This gives the Mod Podge time to dry. Once it is set, add another thin layer of Mod Podge to the entire paper surface. I added 2 layers instead of just one, to ensure it is sealed and won't crack.
Step 4:
It's best to have a game plan
before
you randomly start hot gluing glass pebbles on your frame. Set them in the order/direction/spacing you prefer. I added the corner pebbles first as my starting place. Cover the entire bottom (the flat part) with hot glue and press firmly to the frame. That's it! Just repeat until you're done.
Step 5:
Add flower(s) or other embellishments you desire. Add photo of your choice, and voila!
Later this week or next I will post the tutorial on making the mixed media art inside :)
After taking the photograph last night I decided to show it during the day in all it's glory!
So there you have it, my first tutorial. Thoughts? Feedback? Criticisms?
Until next time,
Craft Happily
!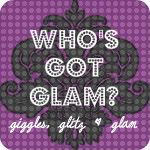 For making these wonderful Link Parties!